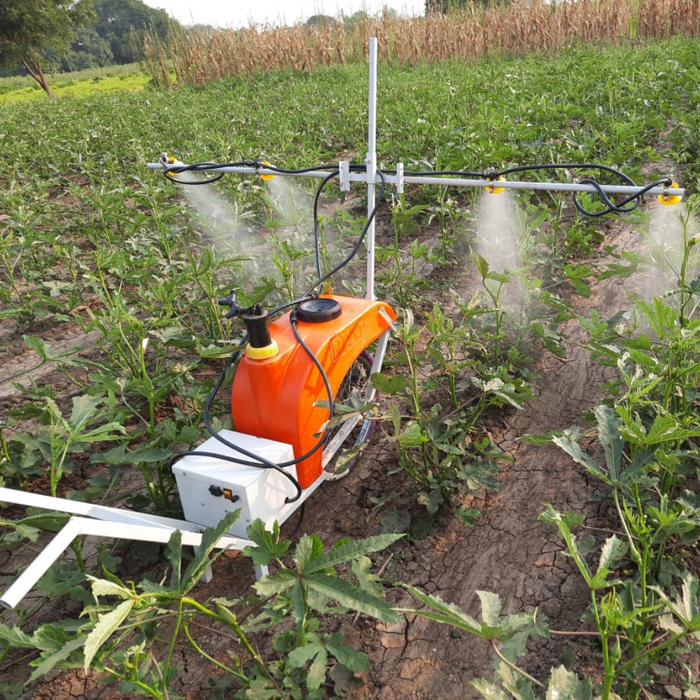 Niyo Battery Operated Spray Pump, 24 L
Original price
Dhs. 940.00
-
Original price
Dhs. 940.00
Dhs. 940.00
-
Dhs. 940.00
Current price
Dhs. 940.00
Experience Unmatched Efficiency with Niyo Battery Operated Spray Pump (24 L)
Introducing the Niyo Battery Operated Spray Pump - your key to achieving remarkable efficiency and precision in your spraying tasks. With a 24-liter tank capacity and cutting-edge features, this sprayer is designed to take your agricultural or gardening projects to the next level.
Key Features:
Powerful 12-Volt Battery: The Niyo Spray Pump is equipped with a robust 12-volt, 12-ampere battery that ensures long-lasting performance. Say goodbye to manual pumping and hello to hassle-free spraying.

Multiple Nozzles for Versatility: With 4+2 nozzles, including single-hole nozzles, you have the flexibility to adjust your spray pattern according to your specific needs. Whether it's delicate plants or expansive areas, this pump has you covered.

Quick Charging: The included 1.7-ampere charger ensures rapid charging, taking just 6-7 hours to fully charge the battery, so you can get back to work in no time.

Extended Discharge Time: Experience uninterrupted spraying with a discharge time of 5-6 hours on a single charge. This allows you to cover significant ground without frequent stops.
Unparalleled Precision:
The high-quality pressure regulator lets you control the pressure with precision, achieving an impressive range from 0.2 to 0.35 MPa per nozzle.
With a full 24-liter tank, you can cover 500-550 meters in lengthwise distance, making large-scale projects a breeze.
Imagine spraying an entire acre in just 30 minutes! Thanks to the Niyo Battery Operated Spray Pump's exceptional performance, you can achieve this level of efficiency effortlessly.
With a single battery charge, you can cover 8-12 acres, ensuring you can tackle extensive spraying tasks without interruption.
Why Choose Niyo Battery Operated Spray Pump?
Niyo's commitment to quality and innovation shines through in this battery-operated spray pump. Whether you're a professional farmer or a dedicated gardener, you'll appreciate the precision, efficiency, and ease of use that this pump offers.
Say goodbye to the limitations of manual sprayers and embrace the future of spraying technology with Niyo. Make every spraying task a breeze and watch your projects thrive.
Upgrade your spraying equipment today with Niyo and discover the unmatched convenience of battery-operated precision!