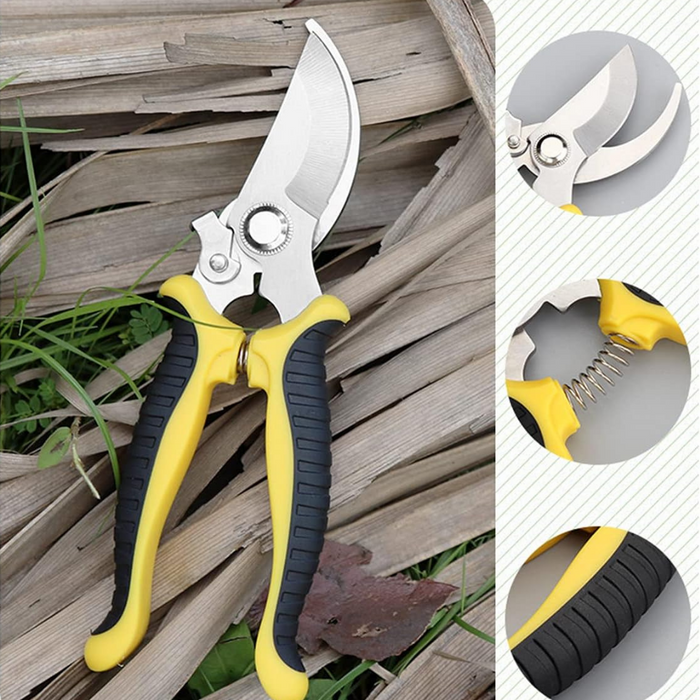 Takufu Pruning Secateur
Original price
Dhs. 35.00
-
Original price
Dhs. 35.00
Elevate Your Pruning Game with Takufu Pruning Secateur - Precision at Your Fingertips
Introducing the Takufu Pruning Secateur, the perfect companion for every gardener and horticulturist. Designed with precision, comfort, and durability in mind, these secateurs are set to transform the way you trim and prune your plants.
Key Features:
Sharp and Durable Blades: The Takufu Pruning Secateur boasts sharp, high-quality blades crafted from premium materials, ensuring clean and precise cuts every time. These blades are designed to resist rust and corrosion, guaranteeing long-lasting performance.

Ergonomic Design: Our secateurs feature an ergonomic design with comfortable, non-slip handles that reduce hand fatigue during extended use. The handle's contoured shape fits snugly in your hand, giving you the control and comfort you need.

Effortless Pruning: With these secateurs, you'll effortlessly snip through branches and stems up to [specify the cutting capacity in millimeters or inches], making them suitable for a wide range of pruning tasks, from delicate flower shaping to heavier-duty shrub maintenance.

Safety Lock Mechanism: Keep these secateurs securely closed when not in use with the built-in safety lock. This feature ensures safe storage and prevents accidents when they're not in your hands.

Versatile Usage: Whether you're a seasoned gardener, landscaper, or a casual plant enthusiast, Takufu Pruning Secateurs are your versatile pruning tool for precision trimming, shaping, and maintaining the health of your plants.
Why Choose Takufu Pruning Secateur?
Takufu's commitment to quality and innovation is evident in every aspect of these pruning secateurs. The combination of sharp blades, ergonomic design, and durability makes them the ideal choice for both amateur gardeners and professionals.
Say goodbye to struggling with subpar pruners that leave behind ragged cuts and hand fatigue. Embrace the precision and ease of Takufu Pruning Secateurs, and watch your plants thrive.
Upgrade your pruning toolkit today with Takufu, and experience the joy of effortless, precise pruning. Your plants will thank you for it!