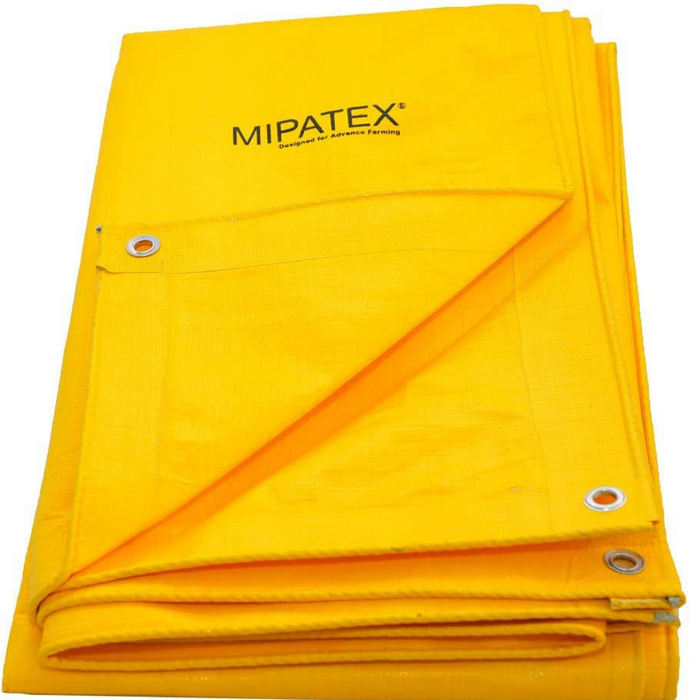 Mipatex Tarpaulin Sheet, Waterproof, Color: Yellow, Blue & Silver
Original price
Dhs. 115.00
-
Original price
Dhs. 158.00
Dhs. 115.00
-
Dhs. 158.00
Current price
Dhs. 129.00
Mipatex Tarpaulin Sheet - Your Ultimate Waterproof Shield in Vibrant Colors
When it comes to protecting your valuable assets from the elements, trust in the Mipatex Tarpaulin Sheet, a heavy-duty, waterproof solution designed to withstand nature's toughest challenges. Available in vibrant Yellow, Blue, and Silver, this multipurpose poly tarp is a versatile choice for safeguarding your belongings, whether it's on a truck, roof, or in outdoor and sun-exposed environments.
Key Features:
Heavy-Duty Protection: Crafted from high-quality, 130 GSM (Grams per Square Meter) plastic material, this tarpaulin sheet offers heavy-duty protection against rain, wind, sun, and more. It's your reliable shield against the harshest weather conditions.

Waterproof and Weather-Resistant: The Mipatex Tarpaulin Sheet is fully waterproof and built to resist moisture, ensuring your belongings stay dry and safe. It's UV-resistant, preventing damage from prolonged sun exposure.

Size Matters: With a generous size of 12ft x 12ft, this tarp provides ample coverage for various applications, including securing your truck cargo, protecting your roof, or creating a reliable outdoor shelter.

Aluminium Eyelets for Easy Attachment: Equipped with reinforced aluminium eyelets every 3 feet, this tarpaulin sheet is easy to secure in place using ropes or bungee cords, allowing you to create a snug, protective barrier effortlessly.

Vibrant Color Options: Choose from vibrant Yellow, Blue, or Silver to suit your preferences and blend seamlessly with your surroundings.
Versatile Usage:
Truck Cover: Safeguard your truck cargo from rain, dust, and debris during transport.
Roof Protection: Use it as a reliable roof cover to prevent leaks and damage.
Outdoor Shelter: Create temporary outdoor shelters for events, camping, or picnics.
Sun Shade: Shield yourself from the sun's harsh rays during outdoor activities.
Why Choose Mipatex Tarpaulin Sheet?
Mipatex brings you a premium tarpaulin sheet that combines durability, versatility, and style. Our commitment to quality ensures that this tarpaulin can withstand the toughest challenges Mother Nature throws its way.
Invest in the Mipatex Tarpaulin Sheet, and enjoy peace of mind knowing your belongings are protected by a heavy-duty, waterproof shield. Whether you're a professional in need of reliable cargo protection or an outdoor enthusiast seeking shelter from the elements, Mipatex has you covered.
Choose quality. Choose Mipatex. Upgrade your protection today!