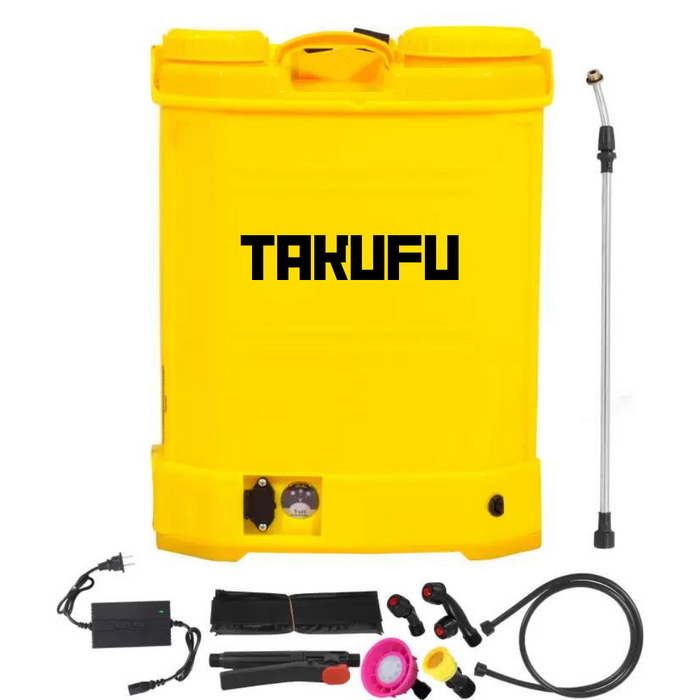 Takufu Backpack Battery Operated Fertilizer Sprayer, 16L
Original price
Dhs. 190.00
-
Original price
Dhs. 190.00
Dhs. 190.00
-
Dhs. 190.00
Current price
Dhs. 190.00
Introducing our Garden Sprayer Knapsack/Backpack Battery Operated 16 L Tank Sprayer – Your Ultimate Gardening Companion!
Are you tired of the hassle of manual spraying and lugging heavy equipment around your garden? Say goodbye to fatigue and hello to convenience with our Battery Operated 16 L Tank Sprayer. This innovative knapsack/backpack sprayer is designed to make your gardening tasks easier, more efficient, and eco-friendly.
Key Features:
Battery-Powered Efficiency: Powered by a high-capacity rechargeable battery, this sprayer eliminates the need for manual pumping. Simply charge it, and you're ready to go!

Large 16 L Tank: With a spacious 16-liter tank, you can cover more ground without constant refills, making it ideal for both small and large gardens.

Adjustable Nozzle: Customize your spray pattern with the adjustable nozzle, from a fine mist for delicate plants to a powerful stream for stubborn pests.

Comfortable and Ergonomic Design: The backpack-style design evenly distributes the weight, reducing strain on your back and shoulders. It comes with padded straps for added comfort during long hours of use.

Versatile Usage: This versatile sprayer is perfect for various gardening tasks, including fertilizing, pest control, weed control, and general plant care.

Durable Build: Crafted from high-quality materials, our sprayer is built to last. It's resistant to corrosion and is equipped with a sturdy wand for extended durability.

Environmentally Friendly: Reduce your carbon footprint with this battery-operated sprayer. Say goodbye to gas emissions and excessive water usage associated with traditional sprayers.

Easy Maintenance: Cleaning and maintaining this sprayer is a breeze, ensuring it stays in top-notch condition for years to come.
Why Choose Our Garden Sprayer?
Our Battery Operated 16 L Tank Sprayer is the perfect solution for modern gardeners looking to streamline their gardening tasks. It offers convenience, efficiency, and environmental consciousness all in one package. With its long-lasting battery and ergonomic design, you'll wonder how you ever managed without it.
Invest in the future of gardening technology today and transform your gardening experience. Say goodbye to the past and embrace the future with our Garden Sprayer Knapsack/Backpack Battery Operated 16 L Tank Sprayer!
Upgrade your gardening game now and order yours today!