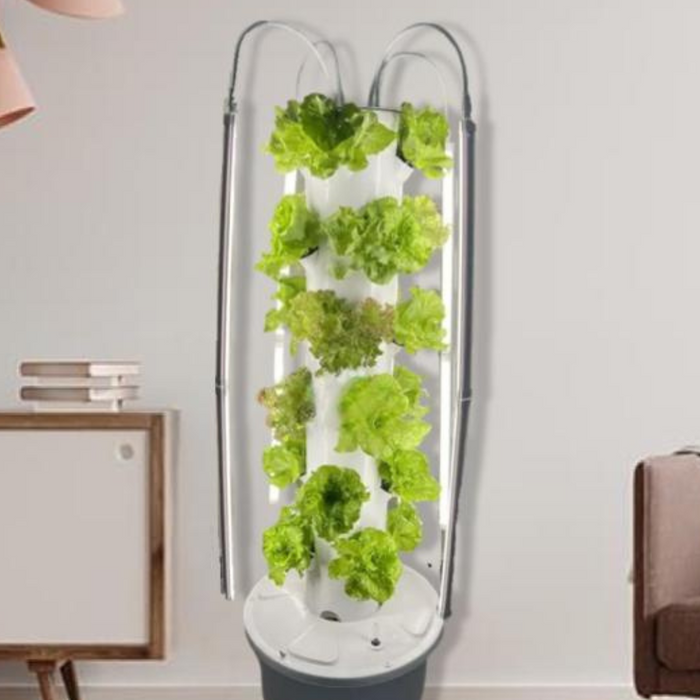 Takufu Tower Growing System
Save

23

%
Save

23

%
Original price
Dhs. 1,100.00
Original price
Dhs. 1,100.00
-
Original price
Dhs. 1,100.00
Original price
Dhs. 1,100.00
Current price
Dhs. 844.00
Dhs. 844.00
-
Dhs. 844.00
Current price
Dhs. 844.00
Grow your own vegetables, herbs, fruits and flowers. Get everything you need to start growing up to 24 plants now.  Start here.  Grow anywhere.
Takufu is the only aeroponic system which can be used outdoors or indoors!
Ideal for backyard gardening,  balconies, terraces, patios, rooftops, cafeterias, schools etc.
Takufu also thrives indoors with the help of its newly redesigned energy-saving LED grow light kit…..
It is the perfect solution for homes and offices: no soil, no weeding, no bending over, no kneeling, no tilling, no daily watering  and no getting dirty!
Takufu is the ultimate space-saving gardening solution as it fits in less than 1 m² (approximately 10 ft.²).
Grow vegetables, herbs, fruits, flowers effortlessly and 100% chemical free!
No gardening experience is necessary: with these fully automated aeroponic towers, everyone has a green thumb!  It is so easy to use: just plant the seedling in the tower and watch it grow!
A Takufu Tower comes ready to use including a seedling kit and a generous supply of device, our proprietary 100% natural earth-based mineral plant food formula.
A Takufu Tower requires 90% less water while delivering up to 65% nutrient–density–increase in comparison to conventional organic produce grown in the soil!
Whether aiming to inspire children at home or in schools, or making a healthy eco-statement at work, Takufu Tower is truly a "food machine": expect bountiful harvests!
Takufu Tower can grow up to 24 plants at the same time.
Buy a Takufu Tower for yourself or as a gift!