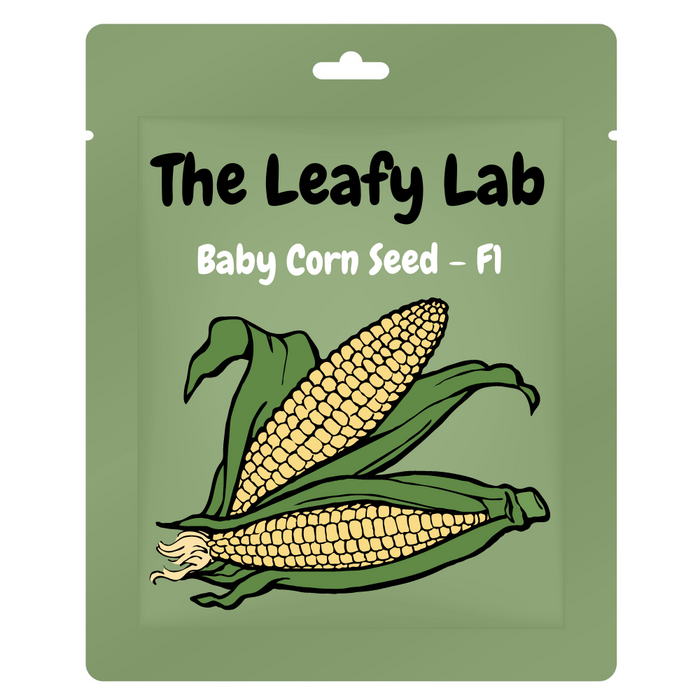 The Leafy Labs Hybrid F1 Baby Corn Seeds, 80 Seeds Pack
Original price
Dhs. 279.00
-
Original price
Dhs. 279.00
Dhs. 279.00
-
Dhs. 279.00
Current price
Dhs. 279.00
"High-Quality Hybrid F1 Baby Corn Seeds for Exceptional UAE Farming"
Product Description:
Are you an ambitious UAE farmer looking to enhance your crop yield with exceptional hybrid F1 baby corn seeds? Look no further! Our premium hybrid F1 baby corn seeds have been meticulously developed to meet the unique demands of the UAE's agricultural landscape.
Key Features:
Unmatched Quality: Our hybrid F1 baby corn seeds are renowned for their superior quality. They are bred to thrive in the UAE's diverse climatic conditions, ensuring consistent, high-yield crops.

High-Yield Variety: Expect a bountiful harvest of tender baby corn cobs that are perfect for both local and export markets. With our seeds, you can maximize your farm's productivity.

Disease Resistance: These seeds are engineered to resist common pests and diseases, reducing the need for harmful pesticides and ensuring healthier, more eco-friendly farming practices.

Easy Cultivation: Whether you're an experienced farmer or just starting, our hybrid F1 baby corn seeds are easy to grow. We provide comprehensive planting instructions to help you achieve the best results.

Versatile Usage: Baby corn is a versatile ingredient used in various culinary creations. These high-quality seeds allow you to cater to the ever-growing demand for fresh baby corn in the UAE's thriving restaurant and food industry.
Why Choose Us?
Local Expertise: We understand the unique challenges and opportunities of farming in the UAE. Our seeds are specifically designed to address these factors.

Sustainable Farming: We are committed to sustainable agriculture, and our seeds are crafted with the environment in mind, promoting responsible farming practices.

Customer Satisfaction: Join countless satisfied farmers who have achieved outstanding results with our hybrid F1 baby corn seeds. Your success is our top priority.
Elevate your UAE farming venture with the best hybrid F1 baby corn seeds available. Purchase now and experience the difference in quality and yield. Order today to secure your future harvest!